You are here
Back to top
Courting Mr. Lincoln: A Novel (Hardcover)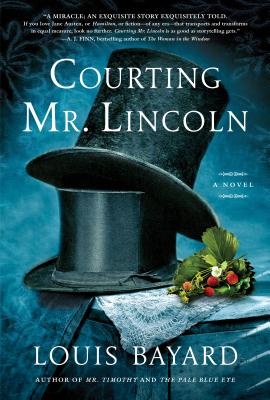 $27.95
Usually Ships in 1-5 Days
May 2019 Indie Next List
---
"This is a beautifully rendered, historically compelling exploration of the idea that the powerful and unseen gravitational force acting on what we know to have been a complicated courtship between Abraham Lincoln and Mary Todd was Lincoln's ambiguous friendship with Joshua Speed. Bayard's complex characters live believably on these pages, reminding us that love is not—and never has been, even for the iconic figures of history—a this-or-that thing, but instead takes on many forms, depending on its circumstances. A great book club selection!"
— Nina Barrett, Bookends & Beginnings, Evanston, IL
Description
---
A page-turning novel about the brilliant, melancholic future president and the two people who knew him best: his handsome and charming confidant (and roommate), Joshua Speed, and the spirited young debutante Mary Todd.
 
A Washington Post Bestseller
A May Indie Next Pick
An Apple Books Best of the Month for April
A People Magazine Best Book of the Week
 
"Exquisite." —People
"A triumph of a novel." —Bookreporter.com
"Rich, fascinating, and romantic." —Newsday
When Mary Todd meets Abraham Lincoln in Springfield in the winter of 1840, he is on no one's short list to be president. A country lawyer living above a dry goods shop, he is lacking both money and manners, and his gift for oratory surprises those who meet him. Mary, a quick, self-possessed debutante with an interest in debates and elections, at first finds him an enigma. "I can only hope," she tells his roommate, the handsome, charming Joshua Speed, "that his waters being so very still, they also run deep."

It's not long, though, before she sees the Lincoln that Speed knows: an amiable, profound man who, despite his awkwardness, has a gentle wit to match his genius, and who respects her keen political mind. But as her relationship with Lincoln deepens, she must confront his inseparable friendship with Speed, who has taught his roommate how to dance, dress, and navigate the polite society of Springfield.

Told in the alternating voices of Mary Todd and Joshua Speed, and inspired by historical events, Courting Mr. Lincoln creates a sympathetic and complex portrait of Mary unlike any that has come before; a moving portrayal of the deep and very real connection between the two men; and most of all, an evocation of the unformed man who would grow into one of the nation's most beloved presidents. Louis Bayard, a master storyteller, delivers here a page-turning tale of love, longing, and forbidden possibilities.
About the Author
---
Louis Bayard is a New York Times Notable Book author and has been shortlisted for both the Edgar and Dagger awards for his historical thrillers, which include The Pale Blue Eye and Mr. Timothy. His most recent novel was the critically acclaimed young-adult title Lucky Strikes. He lives in Washington, D.C., and teaches at George Washington University. Visit him online at www.louisbayard.com.
Praise For…
---
An Amazon Best of the Month for April
A May Indie Next Pick

"An exquisite historical reimagining of a love acknowledged—and a longing denied."
—People (Book of the Week)
 
"Bayard has written eight other novels, and he's extraordinarily gifted at blending provocative fiction with history. The details of [Mary Todd and Lincoln's] courtship are lovely to read, but Lincoln's time with Speed is much more riveting. At book's end, who's courting Lincoln remains an enticing mystery."
—Washington Post

"A house divided against itself cannot stand, Abraham Lincoln warned us. But a book divided against itself stands up quite nicely in Louis Bayard's wonderful Courting Mr. Lincoln . . . Suspenseful and revealing . . . It's a tribute to Bayard's entertaining novel that he has imagined a love story for Abraham and Mary Todd Lincoln that embroiders the truth but that also fits perfectly with what we know about these very famous figures."
—Minneapolis Star-Tribune

"Courting Mr. Lincoln is a fascinating (and partly fictional) exploration of not only the 16th president, but those enamored by him."
—Advocate.com

"A rich, fascinating and romantic union of fact and imagination about young Lincoln, the woman he would marry and his beloved best friend. Bayard's compelling take on this question is not academic, nor is it a polemic; Courting Mr. Lincoln is intimate, warm and, above all, compassionate. Bayard is concerned with the possibilities of the human heart, and he presents an enigmatic Lincoln seen—and loved—from two other points of a romantic triangle . . . the greatest triumph of Courting Mr. Lincoln is how effectively Bayard creates suspense, even when we know how the story ends. Love is love is love, after all, and he invests us deeply in the moving journey of three extraordinary people."
—Newsday

"Bayard's masterful command of language enchants and thrills; his meticulous, almost otherworldly, understanding of his historical subject awes and inspires . . . Courting Mr. Lincoln is Bayard at his absolute best. He offers more reasons to love one of the most admired presidents in U.S. history and proves yet again why he himself is one of the nation's greatest literary gems."
—Shelf Awareness

"Thoroughly researched and thrillingly plotted . . . Filled with rich historical detail and compulsively readable, Courting Mr. Lincoln is a story of a best friend, a future wife, and the political legend that they came together to create, each leaving an indelible mark on the man that would one day become president. Fans of historical fiction will be up late into the night to uncover the next chapter of this fascinating time in history."
—New York Journal of Books

"Bayard does an exceptional job of keeping readers engrossed as he weaves fact and fiction in this intriguing tale of intimacy between Lincoln and his two closest confidantes."
—BookPage

"A wildly clever imagining of Honest Abe's complicated personal life. In Courting Mr. Lincoln, Louis Bayard, an accomplished historical novelist, breathes life into the massive cultural icon whom we know so well, but really don't have much of a clue about. Read the book. You'll thank me."
—Washington Independent Review of Books

"A miracle; an exquisite story exquisitely told. This glorious novel, big-hearted and clear-eyed, features the most uncanny incarnation of our sixteenth president since Daniel Day-Lewis strode onscreen in Lincoln. If you love Jane Austen, or Hamilton, or fiction—of any era—that transports and transforms in equal measure, look no further. 'Whatever you are, be a good one,' Lincoln urged. Courting Mr. Lincoln is a good one—as good as storytelling gets."
—A.J. Finn, bestselling author of The Woman in the Window

"Was Abraham Lincoln gay? The question, not a new one, is delicately and touchingly presented in Courting Mr. Lincoln . . . tenderly told."
—St. Louis Post-Dispatch

"Delightful . . . Readers will delight in Joshua and Mary, who provide unique reflections on a man who is deeply troubled about the path his country is on . . .This charming love story delicately reveals the emotional roller coaster of two inexperienced adults traversing the unknown realm of love while trying to meet the demands and expectations of society."
—Publishers Weekly

"With a masterful grasp of its characters, this moving reflection on Lincoln is an elegiac, illuminating portrait of love."
—Foreword Reviews

"[An] acute and passionate portrait . . . in Bayard's skilled hands, three complicated people groping toward a new phase in their lives is all the plot you need."
—Kirkus Reviews, starred review

"Bayard has made a career of working in different genres and styles, and his writing has always been stellar throughout. Bayard's descriptions of the characters and the dialogue he creates are delightful. What Bayard has accomplished is to take popular figures in U.S. history and not only make them more real—if that is possible —but humanize them to a level where we all can relate to them. Courting Mr. Lincoln is engaging because Bayard has such a fine way with words. The result is a triumph of a novel and an unforgettable read that is a true page turner."
—Bookreporter.com

"With a richly imagined setting and complex characters . . . this [is] a worthy addition to the fiction-about-Lincoln bookshelf."
—Booklist

"In this sparkling tale of strategy and desire, Louis Bayard renders the origin story of the Lincoln-Todd marriage with a wit worthy of Jane Austen and the keen political insight of the best presidential biographers. When it comes to bringing our most revered historical figures to vivid life—and returning to them their full humanity—Louis Bayard has no peer. He is, quite simply, a master of the storytelling art."
—Liza Mundy, bestselling author of Code Girls

"An exquisite novel about how Lincoln's courtship of the brilliant, complicated Mary Todd intersected with his long and very (possibly VERY) close friendship with Joshua Speed. Courting Mr. Lincoln is so subtle and human and heartbreaking, infused with sly wit. I loved every word of it, and the end is note-perfect. My heart broke for both Joshua and Mary, and at the same time, they were lenses that let me think about my favorite president in new ways."
—Joshilyn Jackson, New York Times bestselling author of Never Have I Ever

"Courting Mr. Lincoln gives us a young Abe Lincoln as we've never imagined him. It's a moving portrait, told with cutting wit and intimately drawn detail, of three friends struggling to find their own identities against the weight of social expectations."
—Thomas Mullen, author of Darktown and Lightning Men

"In exquisite detail and luminous prose, Louis Bayard has taken what might have been a footnote in the history of Abraham Lincoln and made it the story. It is as if there was a secret door in Lincoln's life and Bayard has opened it and walked inside. Suddenly all the pieces fit. Utterly fascinating and brilliantly convincing, this is a terrific book that people will be talking about for a long time."
—Mary Morris, author of Gateway to the Moon

"Superb, witty, gorgeously written. For the length of this dazzling, subversive novel, I was plunged so deeply into the sitting rooms and muddy streets of mid-nineteenth-century Springfield, Illinois, that I too had fallen in love with and had my heart broken by the awkward, young lawyer from Kentucky. Courting Mr. Lincoln is an essential read: it makes the past a human place."
—Christopher Bollen, author of The Destroyers

"At its heart, Courting Mr. Lincoln is an intimate portrayal of this complicated and compassionate romantic triangle. By the end of the novel, who's courting Lincoln remains a delicious mystery."
—Shepherd Express (Milwaukee)

"Bayard recounts their unlikely romance with the wit and keen observation of a latter-day Austen, and the pain and poignancy of tragedy waiting in the wings . . . this is a terrific novel, vivid in detail to satisfy lovers of historical fiction, and offering a taste of heaven to the literary."
—Historical Novels Review