You are here
Back to top
Fallen: A Novel of Suspense (Kate Burkholder #13) (CD-Audio)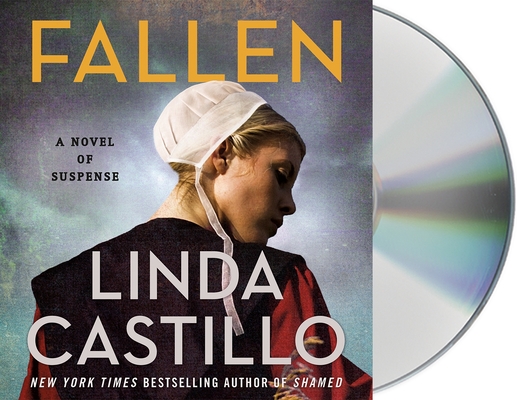 $39.99

Usually Ships in 1-5 Days
Description
---
This program includes a bonus conversation with the author.

In New York Times bestselling author Linda Castillo's new thriller Fallen, a rebellious Amish woman leaves the Plain life, but the secrets she takes with her will lead Chief of Police Kate Burkholder down a dark path to danger and death.

When a young woman is found murdered in a Painters Mill motel, Chief of Police Kate Burkholder is shocked to discover she once knew the victim. Rachael Schwartz was a charming but troubled Amish girl who left the fold years ago and fled Painters Mill. Why was she back in town? And who would kill her so brutally?

Kate remembers Rachael as the only girl who was as bad at being Amish as Kate was—and those parallels dog her. But the more Kate learns about Rachael's life, the more she's convinced that her dubious reputation was deserved. As a child, Rachael was a rowdy rulebreaker whose decision to leave devastated her parents and best friend. As an adult, she was charismatic and beautiful, a rabble-rouser with a keen eye for opportunity no matter who got in her way. Her no-holds-barred lifestyle earned her a lot of love and enemies aplenty—both English and Amish.

As the case heats to a fever pitch and long-buried secrets resurface, a killer haunts Painters Mill. Someone doesn't want Rachael's past—or the mysteries she took with her to the grave—coming to light. As Kate digs deeper, violence strikes again, this time hitting close to home. Will Kate uncover the truth and bring a murderer to justice? Or will a killer bent on protecting a terrible past stop her once and for all—and let the fallen be forgotten?

A Macmillan Audio production from Minotaur Books

Praise for Kathleen McInerney as Kate Burkholder:

"McInerney shifts seamlessly between the many secondary characters, drawing in listeners as the plot unfolds." —AudioFile Magazine on A Gathering of Secrets

"Kathleen McInerney does an excellent job of portraying this diverse cast...Although the brutality in the story can be quite disturbing in places, McInerney's grounded reading keeps it from feeling gratuitous. A compelling listen, well-written and expertly narrated." —Publishers Weekly on Pray for Silence

"McInerney's masterly technique makes aurel sense of the plain and kind Amish people bewildered by the violence, thuggery, and corruption that have come among them. McInerney's characters are alive, all human and believable." —AudioFile Magazine on Among the Wicked
About the Author
---
Linda Castillo is the author of the
New York Times
and
USA Today
bestselling Kate Burkholder series, set in the world of the Amish. The first book,
Sworn to Silence
, was adapted into a Lifetime original movie titled
An Amish Murder
starring Neve Campbell as Kate Burkholder. Castillo is the recipient of numerous industry awards including a nomination by the International Thriller Writers for Best Hardcover, the Mystery Writers of America's Sue Grafton Memorial Award, and an appearance on the Boston Globe's shortlist for best crime novel. In addition to writing, Castillo's other passion is horses. She lives in Texas with her husband and is currently at work on her next book.
Kathleen McInerney has narrated numerous audiobooks by bestselling authors such as Emily Giffin, Danielle Steel, Jeffrey Stepakoff, Mary Kay Andrews, and Linda Castillo. Her narration of Just One Day by Gayle Forman won an AudioFile Earphones Award. In reviewing Mary Kay Andrew's Ladies' Night, AudioFile magazine said, "McInerney makes each of the characters distinct and recognizable and gives each the perfect voice, accent, and vocal mannerisms. Most enjoyable and well performed."

She has appeared onstage in New York and around the United States in both classical and contemporary theater. Her credits also include television commercials, daytime drama, radio plays, and animation voice-overs.