You are here
Back to top
Buckeye Reflections: Legendary Moments from Ohio State Football (Hardcover)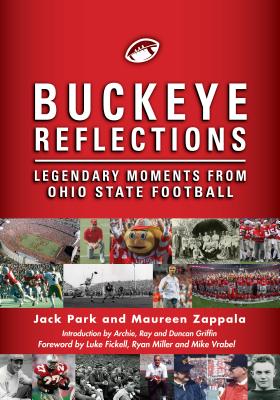 $34.95
Usually Ships in 1-5 Days
Description
---
How does a cow, a snapping turtle and a goat fit into Ohio State football history?
Why would Woody Hayes have been concerned about his neighborhood trash collector?
What did freshman Archie Griffin do on his very first play for Ohio State?
How was Ohio State connected to Notre Dame's legendary coach, Knute Rockne?
These are just some of the fascinating anecdotes you'll enjoy in this collection from the archives of Ohio State history. Sometimes uncanny but always delightful, these tales are certain to entertain all readers.
Co-authors Jack Park and Maureen Zappala create a unique, if not uncanny partnership of an Ohio State grad and a Notre Dame grad. They met in 2015 through the National Speakers Association, and developed a friendship based on mutual love of both professional speaking and college football. This collaborative book was Jack's idea.
With his vast Ohio State knowledge and Maureen's writing and internet skills, they embarked on a delightful two year journey of researching, interviewing, writing and rewriting to produce this fine compilation of some very cool Buckeye stories.
The Ohio State Football narrative overflows with impressive statistics, scores and superstars. But peel back the curtain of game day events, and you find a treasury of inspiring, funny and even peculiar stories not found in the headlines. This book tells those stories, showcasing the human side of the Scarlet and Gray. Games are won and lost at the line of scrimmage, but it's the people and their stories that are the golden threads that give the tapestry of Ohio State heritage its rich luster.
Each chapter highlights a coaching era led by one of the preeminent architects, including John Wilce, Paul Brown, Woody Hayes, Jim Tressel and Urban Meyer. Read about players, coaches, fans, students, administrators, politicians, sportscasters and a myriad of others whose poignant perspectives, joyful celebrations and heartwarming experiences all spring from their connection to the Ohio State gridiron. Laugh over hilarious pranks and oddball coincidences. Feast your eyes on the photos that bring these stories to life. But most of all, be proud to be a Buckeye because you are part of a remarkable and robust football tradition.
About the Author
---
Jack Park has presented his award-winning leadership development program, The Leadership Secrets of Football's Master Coaches, to clients in 47 different states. He has delivered more than 100 keynote addresses for Ohio State University Alumni Clubs in 19 different states. His Certified Speaking Professional designation, the CSP, has been granted to fewer than 8% of the 3,800 members of the National Speakers Association. Jack is an Ohio State Football radio commentator each season for Sports Radio 97.1 The Fan. He is the author of The Ohio State University Football Vault with Foreword by Jim Tressel, and The Official Ohio State Football Encyclopedia with Foreword by Kirk Herbstreit. Jack played football and basketball at New Lexington High School and has been honored with membership in the school's Athletic Hall of Fame. He writes a weekly football column for The Columbus Dispatch, and is featured frequently in football programming on ESPN, The Big Ten Network, and TWC. Jack is a CPA. He received his MBA from The University of Pittsburgh and his BS from The Ohio State University. He is a member of The Football Writers Association of America and lives in Columbus, Ohio. Maureen Zappala, a New York City native, is an award winning speaker, author and presentation skills coach. She has a BS in Mechanical Engineering from the University of Notre Dame and spent 13 years conducting jet propulsion research at the NASA Lewis Research Center (now the NASA Glenn Research Center) in Cleveland, Ohio. She became the youngest and first female manager of NASA's Propulsion Systems Laboratory. She's the founder of High Altitude Strategies, a speaking and coaching organization where she works with high-performers who struggle with the "Impostor Syndrome," the internal voice that says "I'm not as smart as everyone thinks I am!" In 2009, Maureen was in the top 10 of 30,000 contestants in the Toastmasters International World Champion of Public Speaking contest. She's the author of "Great Speakers are Not Born, They're Built" and "Over-Achiever, Under-Believer: How to Match Your Confidence to Your Competence" (to be released in 2018). She's a member of the National Speakers Association (NSA), and is the 2017-18 President of the NSA-Ohio chapter. Maureen lives in Medina, Ohio.