You are here
Back to top
Venice, an Odyssey: Hope, Anger and the Future of Cities (Paperback)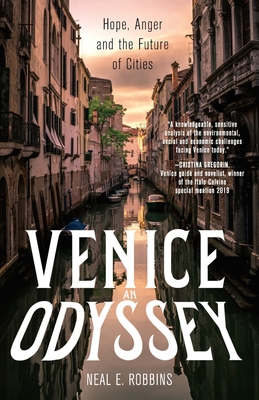 Description
---
An evocative and fascinating portrait of Venice, Italy-the ultimate city where there are stories on every street and in every doorway, nook and cranny.
What is it about Venice? The city empowers creativity, and is a place of art, artisans, and artistry, with a rich cultural and intellectual history. It's also been facing major challenges-including a fragile ecosystem, significant depopulation and political volatility-leading to fears that the city will become an inauthentic museum for tourists.
Neal Robbins examines this Italian city, reflecting on the changes he has seen since he first encountered it in the late 1970s-living with a Venetian family while he was a high school student-to quite recently, when, after nearly 50 years and a career as international journalist, he returned to see how the city has endured and changed.
Drawing on his journalism background, Robbins brings deep research, curiosity, and keen insights to his personal experiences of the city, delivering a multi-dimensional profile of this enchanting place. Taking the reader down the city's streets, into its churches and cafes, and onboard boats traveling through its canals and out into its vital lagoon, Robbins shares the city's history, symbols, politics, and struggles, as well as its sounds, smells, animals, and many of its remarkable denizens. He draws upon exclusive interviews with Venetians from all walks of life-artisans, historians, a bank employee, authors, parents, a psychologist, an oceanographer, a funeral director, a nobleman and a former pop star-to share multiple personal interpretations of Venice as it was, as it is and what it can be.
Readers will come away with a rich understanding and appreciation of Venice's history and culture, the challenges it faces, and what it shows us all about the future.